SPOILER ALERT!!!
This wiki contains information from the manga.
Proceed with caution before viewing each page!
About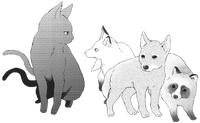 That Wolf-Boy Is Mine! (私のオオカミくん, Watashi no Ookami-kun) follows the story of Komugi Kusunoki. When Komugi's mom has to travel for work, Komugi decides to take the opportunity to move to Hokkaidō with her dad and start a new life away from the traumatic experiences she had at her Tokyo high school. But on her first day, she attracts the attention of Yū Ōgami and drags herself back into the same type of situation she was trying to move away from: other girls bullying her for befriending the school hottie. However, Yū and his friends have a secret that poor Komugi stumbles upon and won't soon forget...

30

ARTICLES

•

911

EDITS

•

339

PAGES

•

90

FILES

•

1

USERS
---
---
To create a new article, just input the title in the box below!
---
---
Visit the community portal to see what the community is working on, or drop by to say hi!
Affiliates
Would you like to affiliate with us?
If so, please contact an administrator!
Community content is available under
CC-BY-SA
unless otherwise noted.